On'ally Holdings PLC, which owns Unity Plaza, is engaged in Property Development / Real Estate business. ONAL made a profit of Rs.37.16 million after tax for the year ended 31 March 2011 compared to Rs.34.61 million for the corresponding period in 2010. According to the Annual Report,
operating income for the year ended 31 March 2011 also increased to Rs.50.54 million when compared to Rs.43.85 million in 2010.
During the year under review (10/11) ONAL was able to achieve full occupancy at Unity Plaza which contributing to the higher turnover.
The average occupancy based on floor area was 100 % as at 31 March 2011 compared to 97.35% as at 31 March 2010.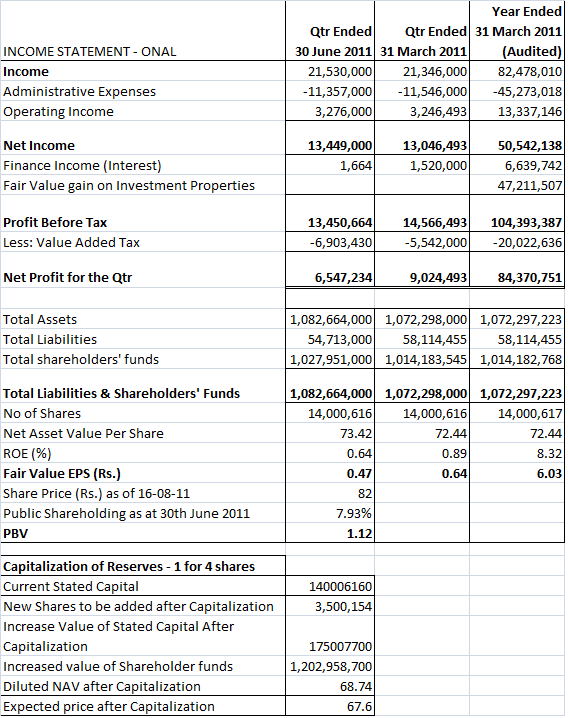 Points extracted from financial reports;
Investment property, principally comprising freehold office building, is held for long - term rental yields and is not occupied by the Company. Investment property is carried at fair value, representing open market value determined once in three years by an independent valuer. The fair valuation is reviewed annually by the Board of Directors with the assistance of independent valuers. Significant changes in fair values are recorded in the Income statement.
As per the 31-04-11 financials The present value of investment property was incresed to Rs.942,109,111.00 and gain on revaluation of Rs.47,211,507.28 was recorded in the income statement as part of other operating income.
However, this portion has been taken off from Excel sheet above on calculating Fair Value EPS.
On year end financial report, other Income consists of miscellaneous income obtained on vehicle parking of Rs 344,400 (2010- Rs 280,700), penalty on delayed rent of Rs 146,850 (2010 - Rs 169,872) and profit on disposal of fixed assets of Rs 20,000 (2010 - Rs 263,725).
ONAL has paid a final dividend of Rs. 1.35 per share for the year ended 31 March 2011 on 28th July 2011.
During the year the Company had disposed fully depreciated office equipment and furniture and fittings, the cost of which was Rs 373,723.
During the year investment properties were revalued (The investment properities are revalued every three years at fair value. A valuation was performed on 31 March 2011 by an independent professionally qualified valuer, W G S Gamini (AIV). Valuation was based on current prices in an active market.). The revaluation gain applicable to owner occupied property was transferred on the basis of occupancy area. The value gain on this is Rs. 47,211,507/- added to income statement.
Foreign Holding as of 31 March 2011 is 0.24% amounting to 34223 shares as per the anual report 10/11.
Major Share holders -
Urban Development Authority - 47.62%
Pan Asia Banking Corporation PLC/Ceylon
and Foreign Trades PLC - 24.28%
Mr. O Gulamhusein - 12.24%
Considering the number of share on the hands of public (7.93%) and its NAV of 73.42, the share is trading at about 12-13 rupees above the NAV price.
[/url]
Look at the above break out area, share has been oscillated in this area quite a good time and broken up heading to 169 once on a surprised run (is it after capitalization announcement?) Then on a gradual process of up n down but more over heading down and suddenly fallen off to 84.50 from y'day's close of 87 but this time with a avg volume. Though the price is down the volume is coming up on satisfactory levels for the past 3-4 days.. Sometimes this can be a collection..
NOT A BUY/SELL recommendation at any cost.. Just FYI & further analysis...